Hand Carved coat of arms for the Lee family in Pretoria.
Lee coat of arms for a family in Pretoria. This branch of the Lee family is of Irish origin and the lettering is a Celtic style which is in keeping with the origin.
A plain finish with no colour or metal leaf and the light colour of the wood used for the carving contrasts well with the slightly stained oak shield providing an elegant look. Many sizes of coats of arms in a number of different styles and materials so go to coats of arms to find the item that best suits your taste.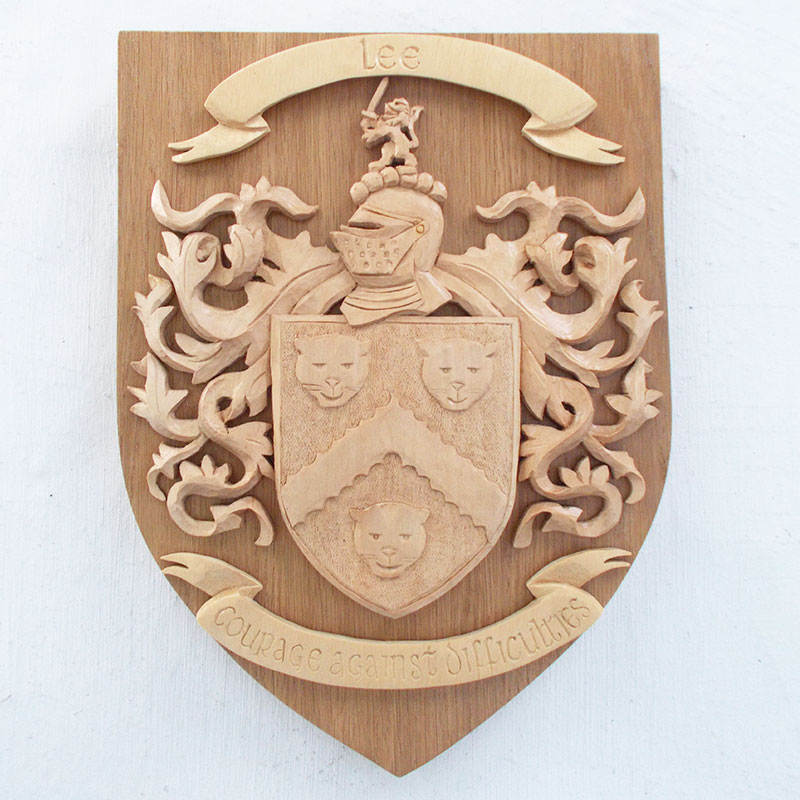 Coats of Arms
A Coat of Arms is a symbol of history and honour, and hand carved, becomes a precious family heirloom to be treasured & handed down the generations.
An ideal gift, it represents the importance of family and tradition: This craft is becoming ever rarer in our fast paced world.
The Sign Carver has made Coats of Arms of all sizes for Wine farms, University residences, Schools and families.
You can choose to have your Coat of Arms carved in wood or cast in cement resin or bronze.
Types of Coats of Arms
Carved in wood with plain wood finish (varnish)
Carved wood with colours and metal leaf
Carved on an oak barrel end (plain finish)
Carved in hardwood (suitable for outdoors)
Cast in cement one off (suitable for outdoors)
Cast in bronze (suitable for outdoors)
Multiple copies cast in cement, resin (indoors) or bronze
An Ideal Family Gift
Owning or giving a gift of a beautifully hand carved Coat of Arms shows your appreciation for a craft that is becoming rarer in our fast paced world, an item made lovingly by hand.
The Coat of Arms is a symbol of history and honour, a family heirloom to be handed down to future generations. It is a valuable and prized symbol to someone who values their culture and family origin.