Nantucket House
Nantucket House is of my early signs made in 2004 the year The Sign Carver business was started. This was a while before I got my computer with a drawing program and I still remember the hand drawn design with 'Letraset' rub down letters in different sizes and weights of the font, 'Copperplate Gothic'.
This is a sign about one metre wide by approximately 600mm tall (not including the posts) with a moulding on top and bottom following a very traditional design common to New England in the U.S.A. The style is often referred to as 'Cape Cod' signage, and it was on Martha's Vineyard in 1992, an Island close to Nantucket island (that this sign was named after) and close to Cape Cod peninsula, in Massachusetts U.S.A. where I saw this type of signage for the first time and where an idea was planted for the business I was to embark on two years later.
The 'Cape Cod' style of signage mostly incorporates dark colours that are beautifully contrasted with engraved and gold leafed lettering. I was at the time unable to find gold leaf so lettering and stars on this sign were painted gold, a poor substitute for real gold leaf. The boat, which I seem to remember is an 'American cargo schooner' or a 'Sloop' complete with flag in red white and blue, is carved as a cameo where the oval is gradually deepened from the edges of the oval and the boat, sails, flag and part of the waves are slightly raised and painted.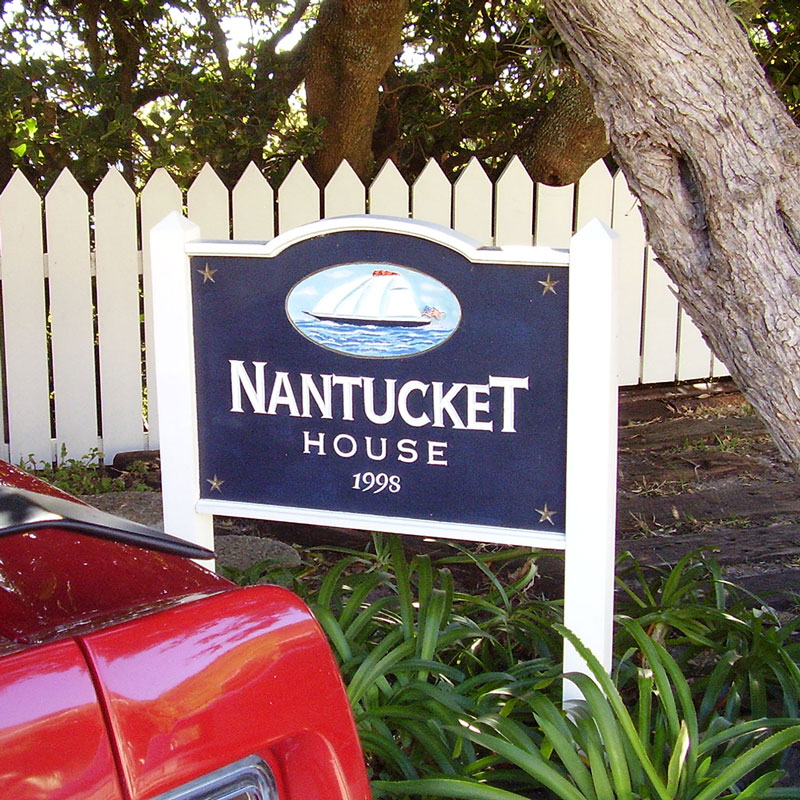 This sign has lasted particularly well down by the sea in Llandudno in Cape Town, appropriately at a lovely house in the 'Cape Cod' style of architecture with white timber clad walls and window and door frames in an attractive grey blue, the last time I saw it. The letters on the sign have since been painted white as the gold paint, as expected, tarnishes with time. But any new commissions for signs like this can benefit from the beauty of real gold leaf which will never tarnish and I can now find, thanks to the internet.
Hand Carved Signs
Our hand carved wooden signs have a timeless charm that never goes out of style.
Whether you have a taste for simple elegance or decadent detail, the Sign Carver beautifully crafts each wooden sign with care and precision, delivering a high quality product that is very durable.
Our outdoor signs are durable enough to mature gracefully while other signs are fading and crumbling in the harsh African sun.
Lettering
The Sign Carver uses three methods for Lettering
Incised (engraved) lettering
Relief lettering where background is carved away
Lettering painted on a flat surface
The Sign Carver has many lettering styles for you to choose from including a wide range of scripts and flourishes, serif and sans serif typefaces and Old English, Old German as well as whacky scripts, Hebrew, Eastern and Cyrillic scripts.
Types of Signs
Large wooden signs
Wall mounted signs
Directional Signs
Swing Signs
Double sided Signs
Timber Post Signs
There is an unmistakable crafted feel as each sign is carved with hand held tools.
The Sign Carver has made beautiful hand carved signage for:
Restaurants, Vineyards & Pubs
Libraries, Businesses & Shop fronts
Hotels, Game Farms & Guest Houses
Schools, Churches & Synagogues
Private Residences, Holiday Homes & Yachts
The Sign Carver lovingly crafts each wooden sign with care and precision, delivering a high quality product that is durable and beautiful.