Stone engraving and carving by The Sign Carver
The first line on the memorial stone pictured 'A GENTLE SOUL', says it all. The soft colours of the Kashmiri sandstone, coupled with hand engraved lettering showing facets of light and shadow, are a fitting medium to remember a loved one. This is a far cry from the hard sandblasted lines on grey granite slabs and colour filled letters sand blasted on marble, which are the standard.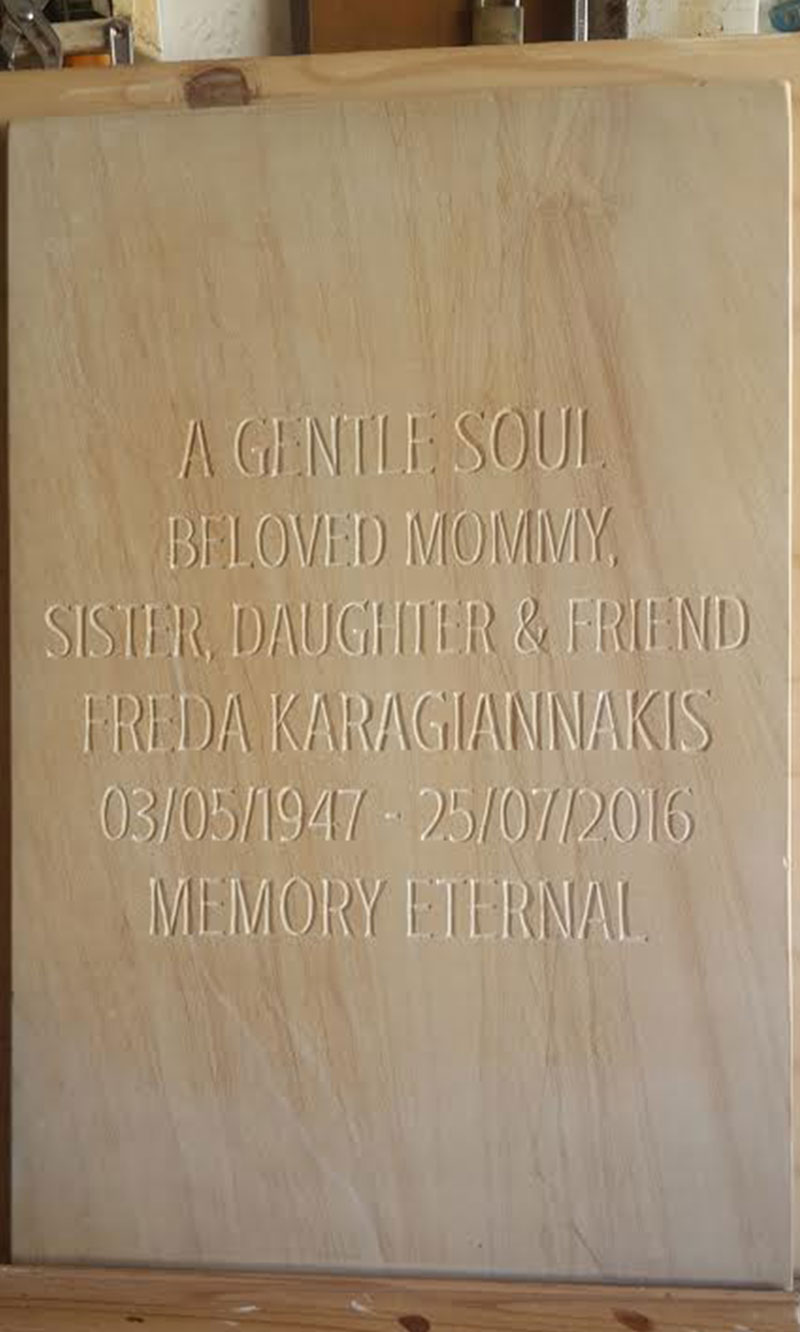 Carving on stone is mankind's most ancient and enduring form of leaving a legacy. Through carving stone, form became pattern, became written language, and the world over, ancient civilisations are known to us through their markings on stone.
At our workshop, a mallet and hand tools are used to engrave stone, so little has changed from the earliest stone carvers and engravers. The rhythmical tapping of an iron mallet and chisel being carefully chased along a line, is often the only sound that can be heard.
Some types of stone suitable and available to us for carving and lettering include imported Kashmiri sandstone which is a pale beige with subtle wave markings in pale browns and reds. A more marked sandstone called Waterfall, with drape like patterns is also carve able but possibly more suited to one or two words as the carving may be lost to the strong, colourful markings on the stone. Various types of Marble are also suitable with the whitest marble imported from Italy or the USA being the most suitable. There are also types of slate that are suitable for letter and pattern carving, notably Belgian Blue slate, but a few locally available types of slate are also carve able.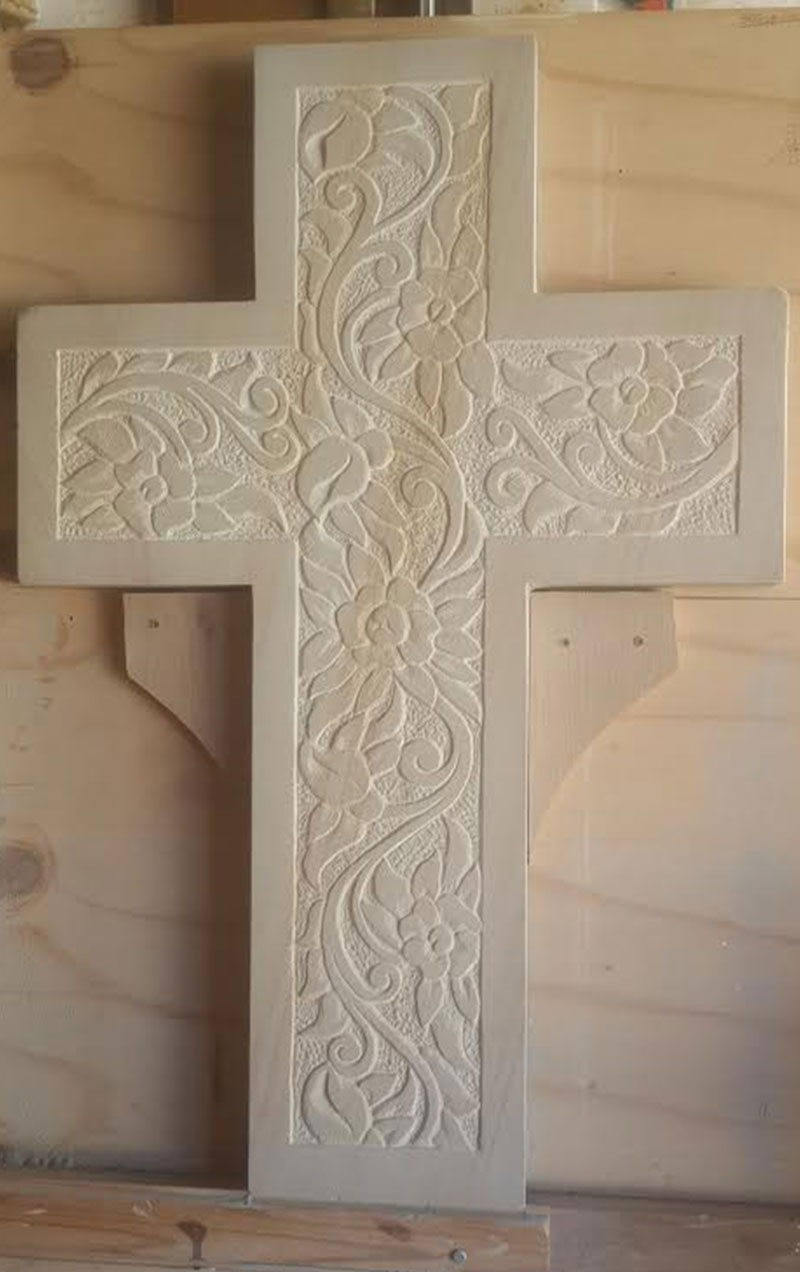 The Cross pictured, shows the type of shallow pattern suitable for carving in stone. Celtic knot work and Celtic crosses would be ideal for the medium of stone and imagine a Monogram, a logo or a Coat of Arms carved in stone. It is going to be around for a very long time, hence the saying "Written in stone".
Hand Carved Signs
Our hand carved wooden signs have a timeless charm that never goes out of style.
Whether you have a taste for simple elegance or decadent detail, the Sign Carver beautifully crafts each wooden sign with care and precision, delivering a high quality product that is very durable.
Our outdoor signs are durable enough to mature gracefully while other signs are fading and crumbling in the harsh African sun.
Lettering
The Sign Carver uses three methods for Lettering
Incised (engraved) lettering
Relief lettering where background is carved away
Lettering painted on a flat surface
The Sign Carver has many lettering styles for you to choose from including a wide range of scripts and flourishes, serif and sans serif typefaces and Old English, Old German as well as whacky scripts, Hebrew, Eastern and Cyrillic scripts.
Types of Signs
Large wooden signs
Wall mounted signs
Directional Signs
Swing Signs
Double sided Signs
Timber Post Signs
There is an unmistakable crafted feel as each sign is carved with hand held tools.
The Sign Carver has made beautiful hand carved signage for:
Restaurants, Vineyards & Pubs
Libraries, Businesses & Shop fronts
Hotels, Game Farms & Guest Houses
Schools, Churches & Synagogues
Private Residences, Holiday Homes & Yachts
The Sign Carver lovingly crafts each wooden sign with care and precision, delivering a high quality product that is durable and beautiful.