Sculpture
The Sign Carver takes on a wide variety of projects, great & small, and approaches each new project with passion & the utmost attention to detail.
Sculpture
Sculpture is the main passion and driving force behind the Sign Carver, who can often be found ankle-deep in woodchips, trying to find that wonderful third dimension in a chunk of wood or stone.
In addition, the Sign Carver has extensive experience with casting of sculptures in bronze, cement and resin and collaborates with mould makers and foundries.
Not sure which material to choose? We will happily advise you on the best application to suit your particular project.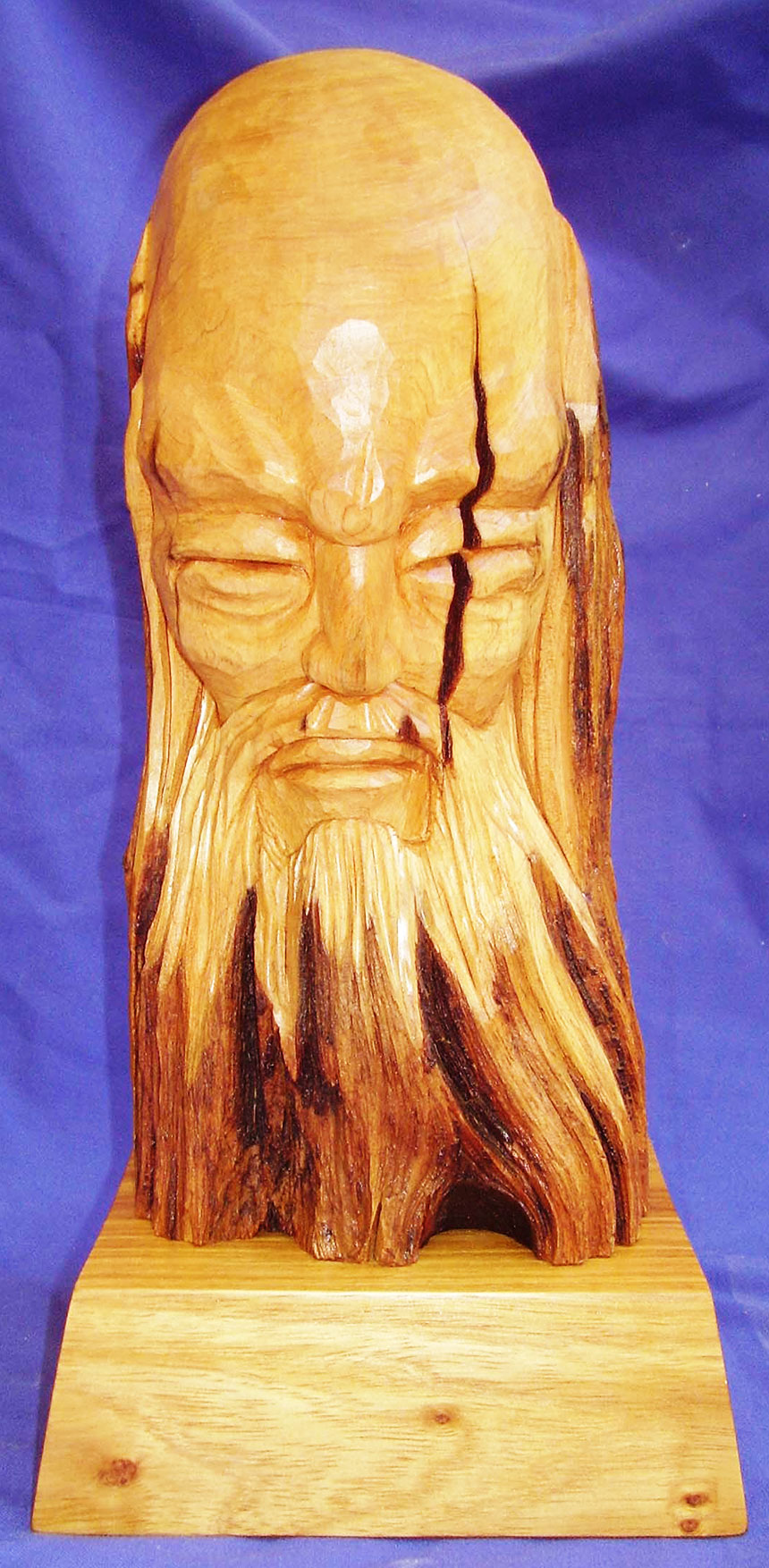 Wise old man, carved from a piece of Clanwilliam Cedar
Wood sculpture.
Wood, unlike clay, has a special beauty in its grain, colour and warmth which the Sign Carver is drawn to. The Sign Carver has works in many sizes and has sculptures scattered around South Africa and the globe.
Do you have a piece of wood in mind for a sculpture? A wood with a very marked grain pattern is more suitable for simple shapes as the pattern will detract from features on a detailed piece of work. For detailed work such as figures and faces, a timber, either dark or light, with a feint grain is best as the detail won't be overpowered by the grain pattern.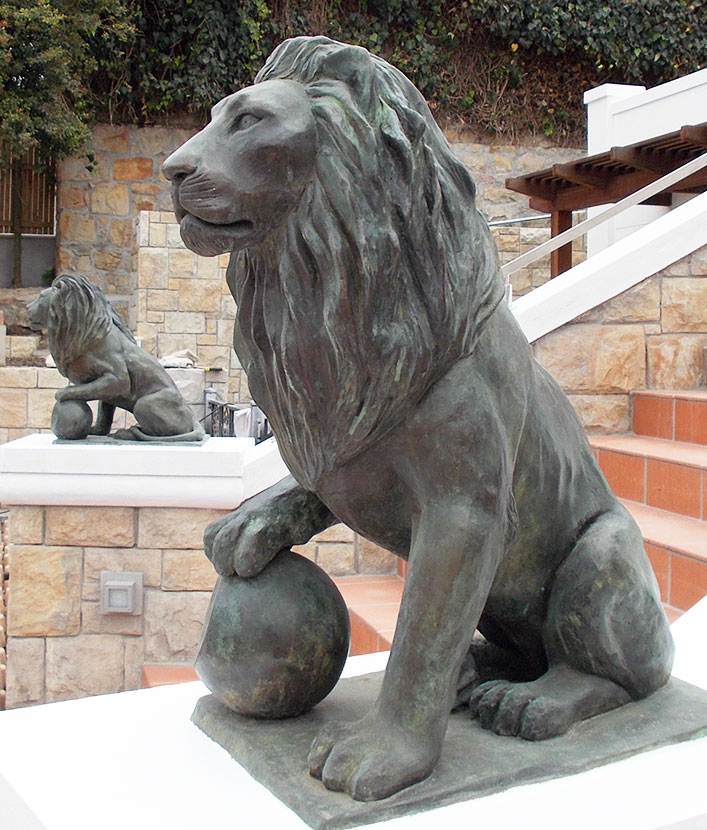 A pair of bronze Lions guard the entrance to a boutique hotel, St James, Cape Town
Available to order
You can own one or a pair of lions in bronze to guard the steps of your business or private residence as photographed here (75cm / 29.5 inches tall). These regal beauties are cast in bronze with the option of customising them with a monogram or coat of arms on the ball (under the paw).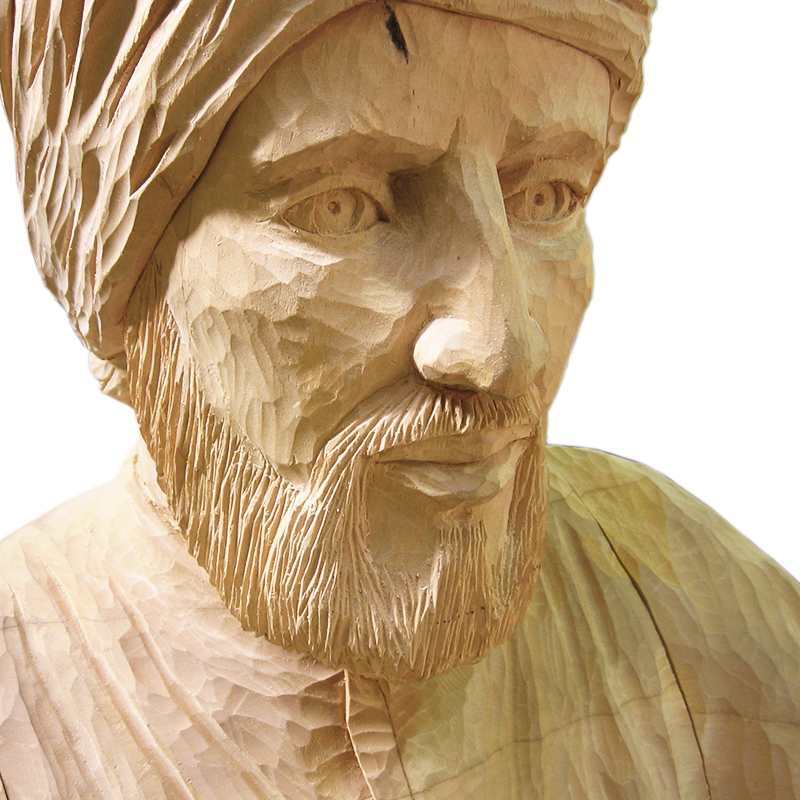 In process: One of Five life sized Persian figures for a shopping centre in Dubai, United Arab Emirates (2011)
Cast sculpture in Bronze, cement or resin.
From one off casts in cement to multiple cop casting, the Sign Carver has experience and knowledge of what is required to undertake sculpture that requires various forms of casting.
All cast sculpture starts out in clay or wax from which a mould is made. A one off cast of a sign or coat of arms has a solid mould which is broken off once the cement is set. Multiple copies in cement or resin and bronze castings of either signs, Coats of Arms or sculpture, require a silicone mould.
The Sign Carver beautifully crafts each sculpture with love, care and precision, delivering a high quality product that will last a lifetime.
Religious Sculpture
The Sign Carver crafts custom religious sculpture, religious relief wood carvings, and sculpture restorations in wood, cement or plaster.
Each sculpture is a custom designed original, made according to the client's specific style and preferences.
Whether for a church, synagogue, educational facility or a private residence, the Sign Carver has skills and knowledge to design and manufacture something totally unique; a custom designed and beautifully crafted sculpture in a style that is suited to your specific needs and requirements.
From a life-sized carved wooden Corpus sculpture, Madonna and Child and Saints, to sets of Stations of the Cross and Tree of Life murals we are inspired to be able to provide this important imagery.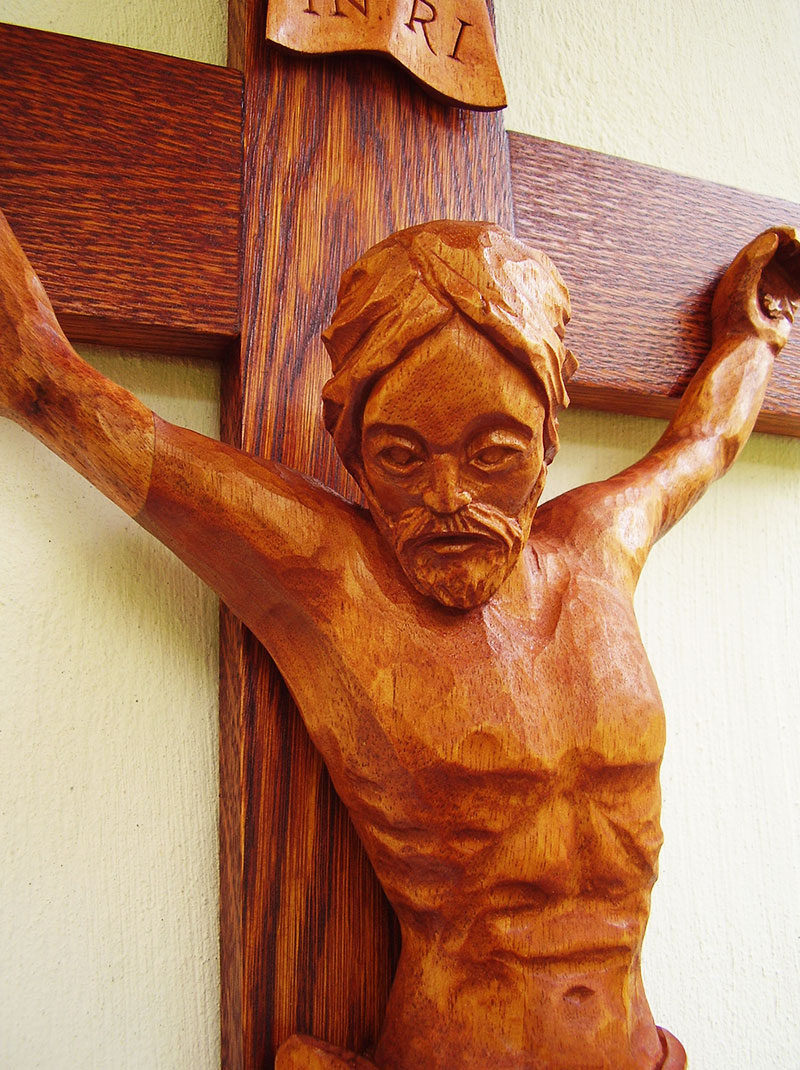 Small crucifix for a church in Constantia
Stone sculpture.
Ivan Hunter has experience carving softer varieties of stone with hand tools, including slate, marble, serpentine and Zimbabwean opal stone. Work has included a hand-carved slate plaque for an historical graveyard in Stellenbosch and various artistic pieces.
He also teaches a weekly hour and a half lesson in stone carving to a senior class at a school in Cape Town.
they really are stunning!
We adore our new Rocketbar & Tree House Eatery signs. Thank you so much – they really are stunning!
Silvermist Mountain Lodge & Organic Wine Estate, Cape Town