Carved Wooden Signs
The Sign Carver takes on a wide variety of projects, great & small, and approaches each new project with passion & the utmost attention to detail.
Carved Wooden Signs
Our hand carved wooden signs have a timeless charm that never goes out of style.
Whether you have a taste for simple elegance or decadent detail, the Sign Carver beautifully crafts each wooden sign with care and precision, delivering a high quality product that is very durable.
Our outdoor signs are durable enough to mature gracefully while other signs are fading and crumbling in the harsh African sun.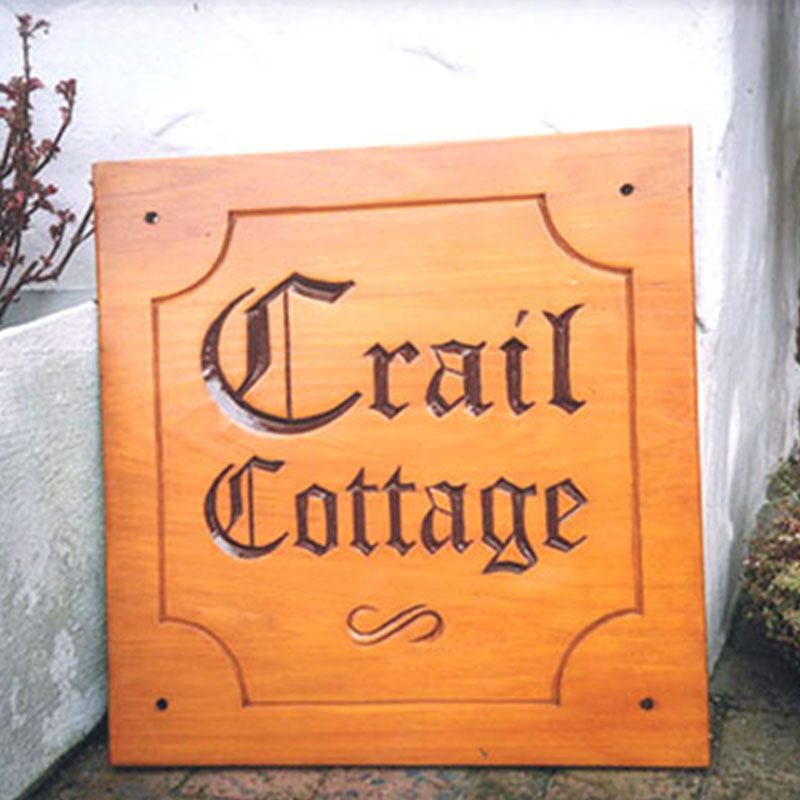 Crail Cottage, Cape Town
Lettering
The Sign Carver uses three methods for Lettering
Incised (engraved) lettering
Relief lettering where background is carved away
Lettering painted on a flat surface
The Sign Carver has many lettering styles for you to choose from including a wide range of scripts and flourishes, serif and sans serif typefaces and Old English, Old German as well as whacky scripts, Hebrew, Eastern and Cyrillic scripts.
Types of Signs
Large wooden signs
Wall mounted signs
Directional Signs
Swing Signs
Double sided Signs
Timber Post Signs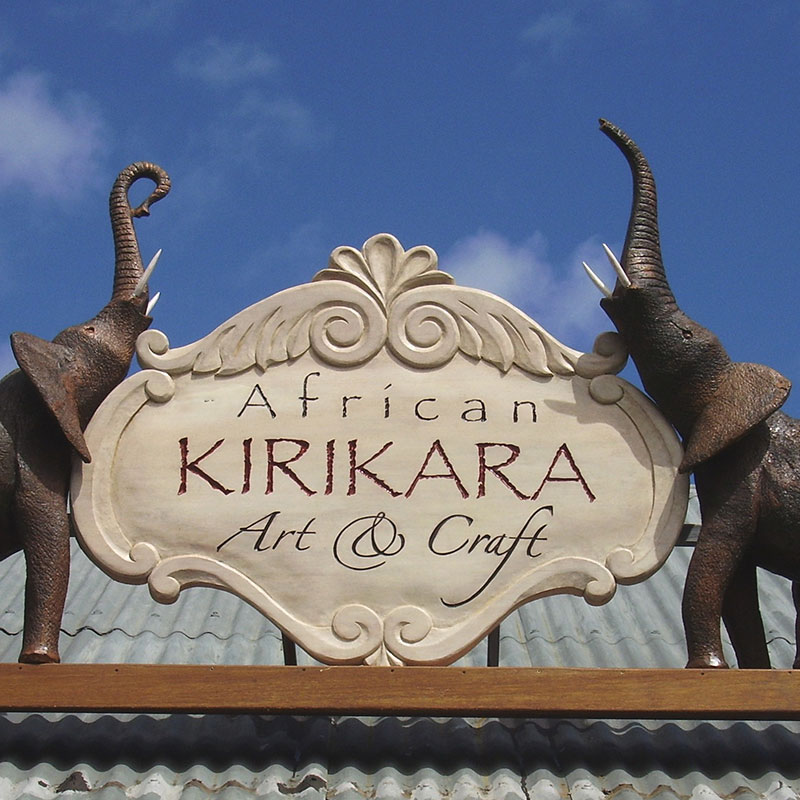 African Kirikara Arts & Craft, Hout Bay
Why should I choose a Carved Wooden Sign?
There is an unmistakable crafted feel as each sign is carved with hand held tools.
The Sign Carver has made beautiful hand carved signage for:
Restaurants, Vineyards & Pubs
Libraries, Businesses & Shop fronts
Hotels, Game Farms & Guest Houses
Schools, Churches & Synagogues
Private Residences, Holiday Homes & Yachts
The Sign Carver lovingly crafts each wooden sign with care and precision, delivering a high quality product that is durable and beautiful.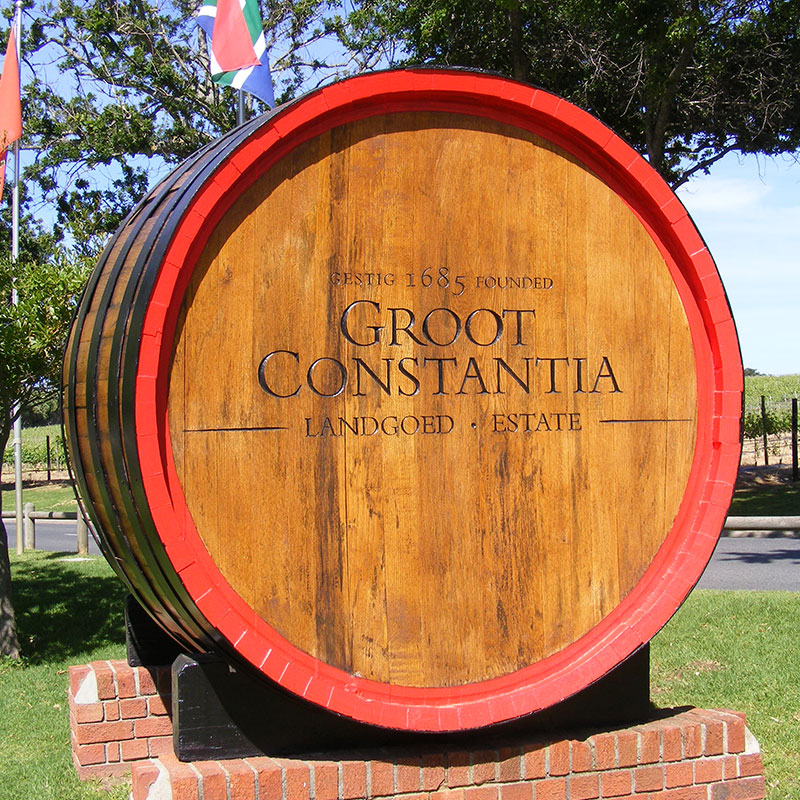 Groot Constantia Estate, Cape Town
Signature Signs
A carved wooden home sign is your signature, it speaks of your appreciation of craftmanship and quality. Each sign is carved with hand held tools, achieving a classic look that a machine cut sign simply cannot match.
Whether for a Guesthouse, hotel, restaurant, game farm or private residence the Sign Carver has skills and knowledge to design and manufacture something totally unique; a signature hand carved sign for which you will be recognised and remembered.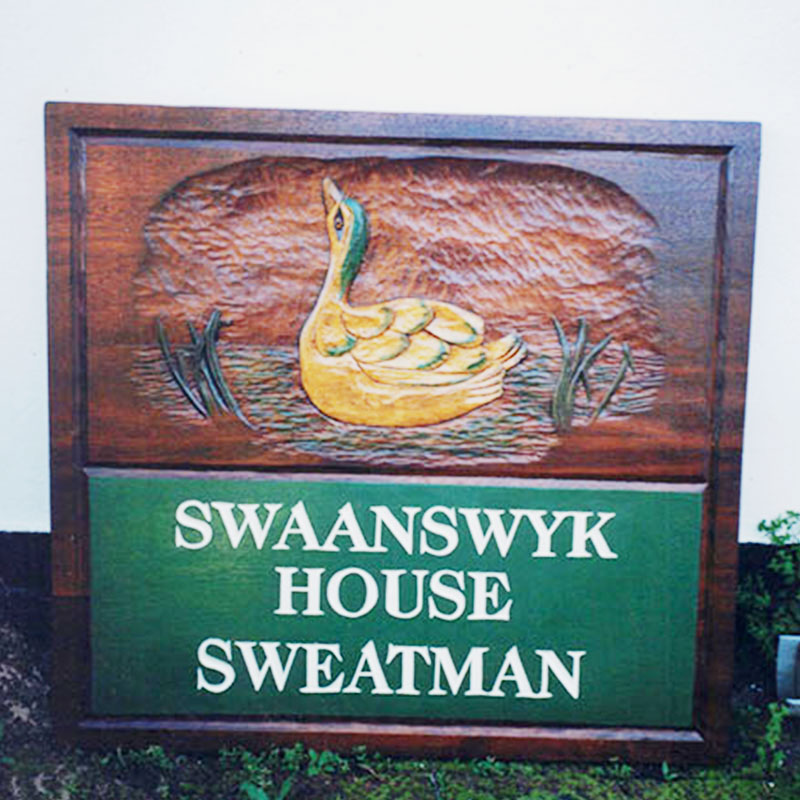 Swaanswyk House, Tokai
Finish
You are free to choose any finishes for your sign, including:
Black or dark stained lettering / elements, on light wood finish
This is the most affordable of the engraved signs.
White or light painted letters on a dark wood finish
This has an elegant classical look.
Painted Signs
With the signboard in a light or dark paint and a contrasting colour in the lettering and decorative elements.
Gold and silver leaf
Gold and silver leaf can add a high quality and striking effect to lettering and decorative elements
Plain varnished
For a subtler look, it's interesting to note that a carved letter casts beautiful shadows, and will catch the light even when a sign is unpainted.
Faux aged
From time to time, clients prefer an aged look and the Sign Carver is able to give signs a naturally distressed look, by using a combination of scouring, lime washes, wood stains, as well as a few other secret tricks to achieve the desired effect.
they really are stunning!
We adore our new Rocketbar & Tree House Eatery signs. Thank you so much – they really are stunning!
Silvermist Mountain Lodge & Organic Wine Estate, Cape Town