Welcome to the home
of quality hand carved craftsmanship
If you have an appreciation for the unmistakeable hand crafted feel of quality workmanship that has become ever rarer in our fast paced world, then you have come to the right place. The Sign Carver specialises in hand carved wooden signs, coats of arms, sculpture and much more.
What We do
The Sign Carver takes on a wide variety of projects, great and small, and approaches each new project with passion and the utmost attention to detail.
Hand Carved Signs
Our hand carved wooden signs have a timeless charm that never goes out of style.
Whether you have a taste for simple elegance or decadent detail, the Sign Carver beautifully crafts each wooden sign with care and precision, delivering a high quality product that is very durable.
Our outdoor signs are durable enough to mature gracefully while other signs are fading and crumbling in the harsh African sun.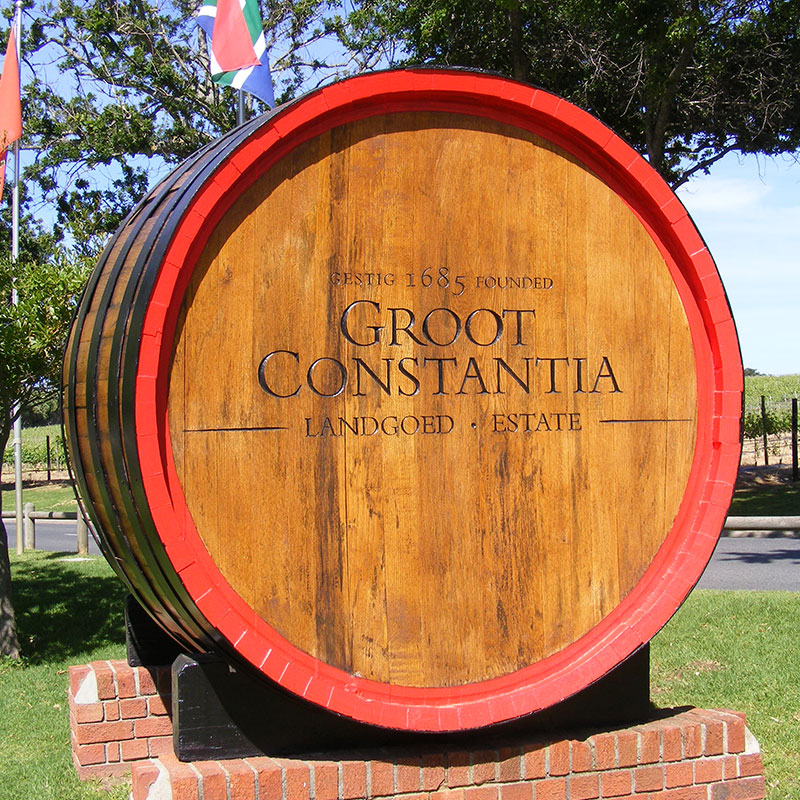 Groot Constantia Estate, Cape Town (2011)
Architectural Elements
For the ultimate personal touch, you can introduce hand carved wooden design elements right into the features of your home.
The Sign carver occasionally collaborates with Interior decorators when a project requires a touch of subtle sophistication that only true craftsmanship can deliver.
Interior designers enjoy the freedom of being able to choose any pattern under the sun and the warm scent of hand carved wood simply oozes luxury into a home.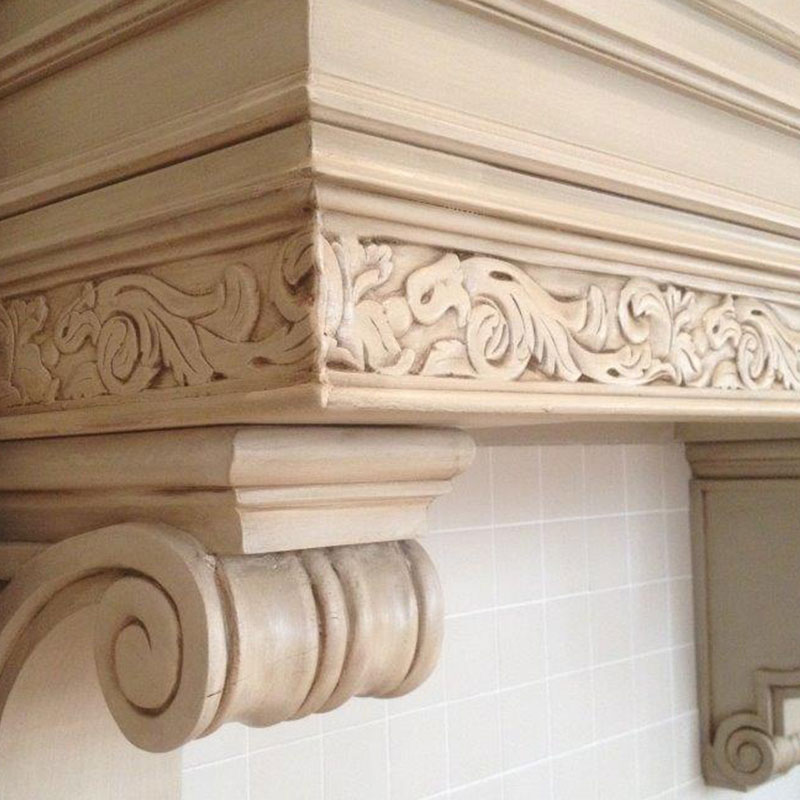 Carved Corbels & running pattern for a Cape Town kitchen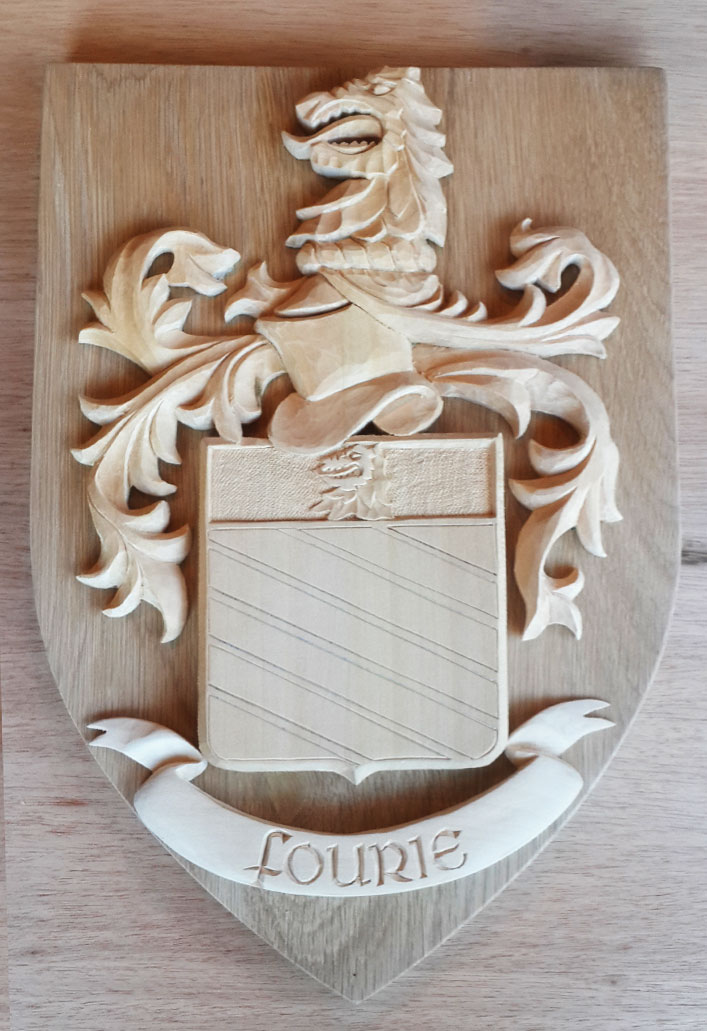 A coat of arms for the Fourie Family, Weltevreden Park
Coats of Arms
A Coat of Arms is a symbol of history and honour, and hand carved, becomes a precious family heirloom to be treasured & handed down to future generations.
An ideal gift, it represents the importance of family and tradition: This workmanship is becoming ever rarer in our fast paced world.
The Sign Carver has made Coats of Arms of all sizes for Wine farms, University residences, Schools and families.
You can choose to have your Coat of Arms carved in wood or cast in cement, resin or bronze.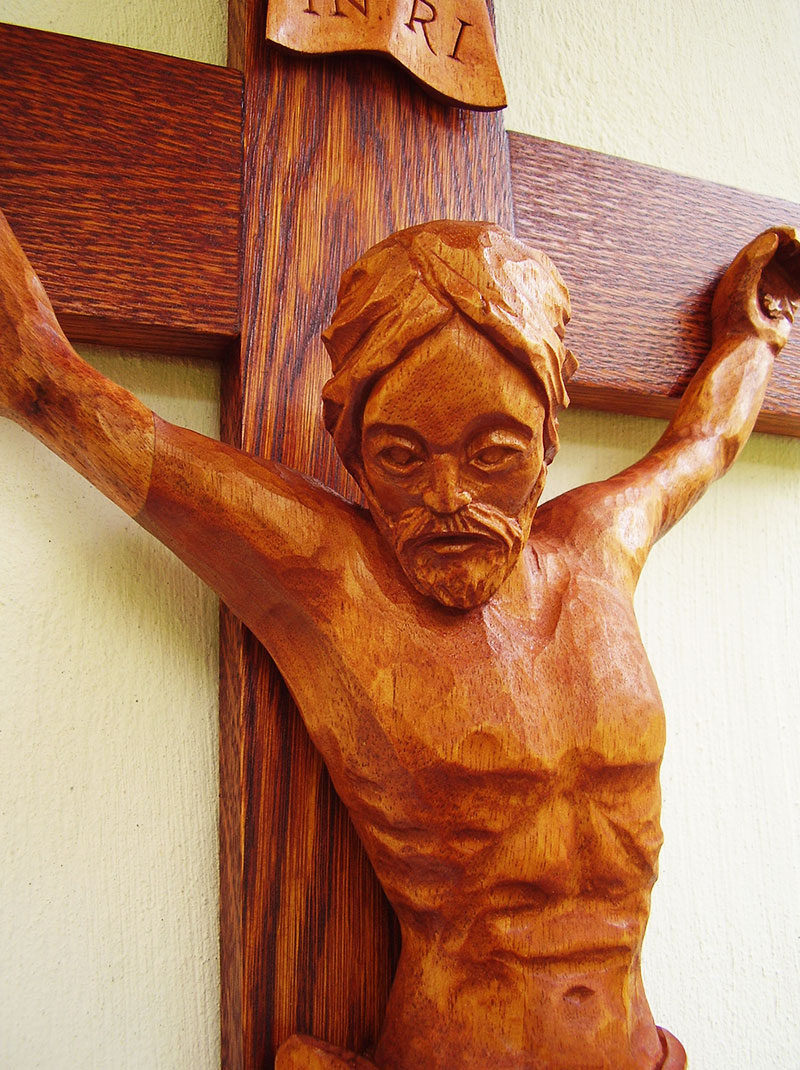 Small crucifix for a church in Constantia
Religious Sculpture
The Sign Carver sculpts custom made religious imagery, relief wood carvings, and sculptural restorations in wood, stone, cement, resin, plaster and bronze.
Each sculpture is a custom designed original, made according to the client's specific style and preferences.
Sculpture
Sculpture is the main passion and driving force behind the Sign Carver, who can often be found ankle-deep in woodchips, trying to find that wonderful third dimension in a chunk of wood or stone.
In addition, the Sign Carver has extensive experience with casting of sculptures in bronze, cement and resin and collaborates with mould makers and foundries.
Not sure which material to choose? We will happily advise you on the best application to suit your particular project.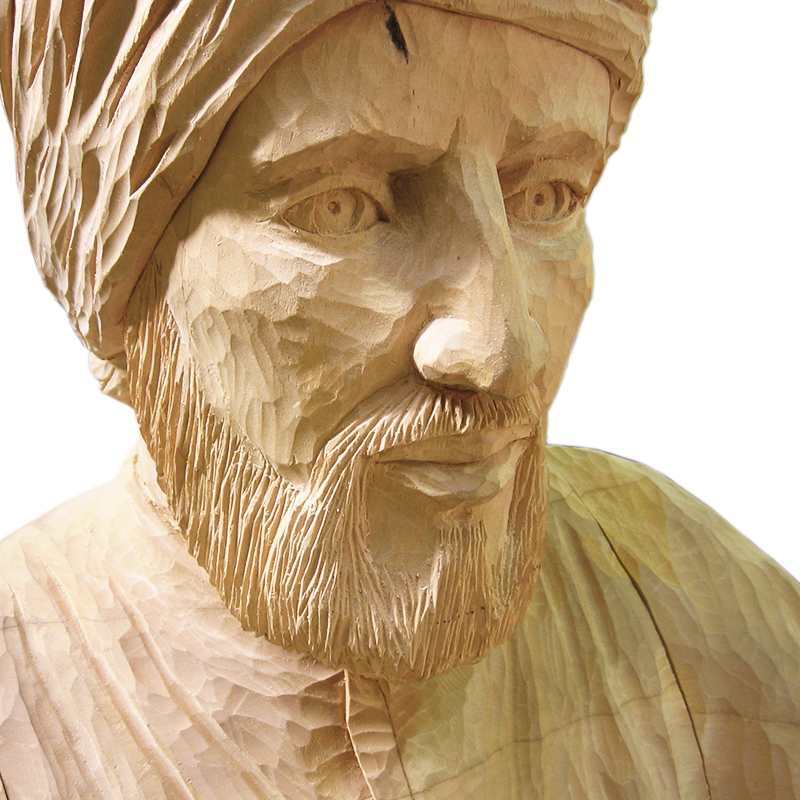 In process: One of Five life sized Persian figures for a shopping centre in Dubai, United Arab Emirates (2011)
Restoration
When antique furniture or beloved wood or plaster sculptures get damaged, they lose their value and their charm.
Don't store them in the attic or try to replace them. Instead, call on the Sign Carver to restore these treasures to their former glory.
With a careful eye and attention to detail, The Sign Carver is able to replicate and restore even the finer details and embellishments .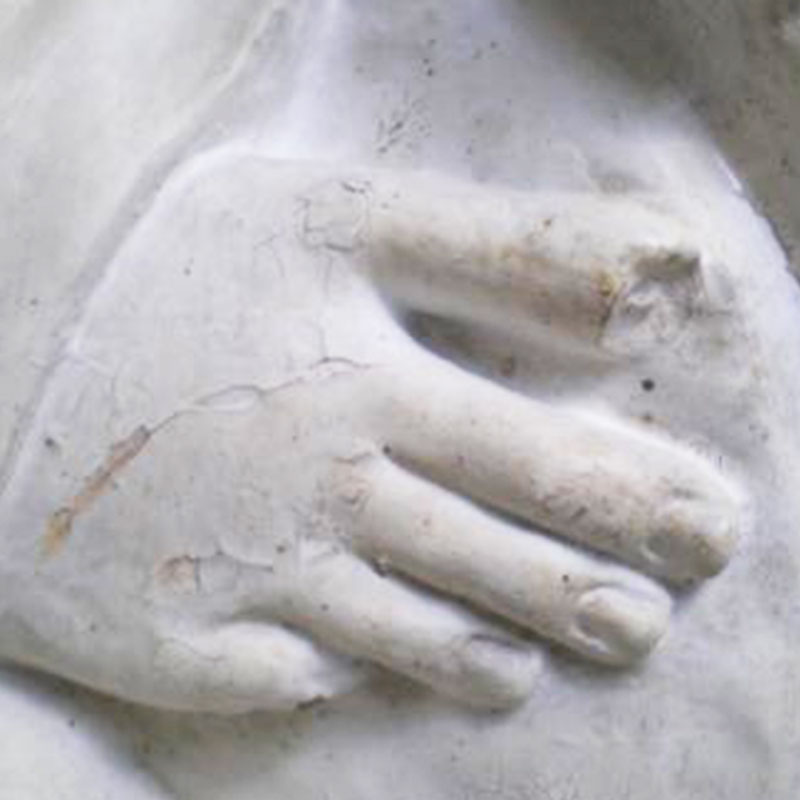 craftsmanship, quality & style is excellent
I was very excited to receive the Room Name Plates. The craftsmanship, quality and style is excellent and they really do add interest to the character of Annies House Romantic Getaway.
The delivery was made on time, exactly as promised. I recommend your service and expertise to anyone who is looking for a professional to create bespoke signs without hesitation.
Maryanne, Annie's House Romantic Getaway, Hartebeespoort